Shopping Cart
Your Cart is Empty
Thank you for your business!
You should be receiving an order confirmation from Paypal shortly.
Exit Shopping Cart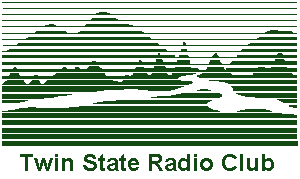 The Twin State Radio Club, in concert with NH-ARES, proudly supports The Prouty Century Ride each July, helping to raise millions for cancer research at the Norris Cotton Cancer Center in Lebanon. Please volunteer!
Join us monthly, and learn about

Amateur Radio!
The Twin State Radio Club, Inc. meets at 9am on the 2nd Saturday of each month for breakfast, business, and an educational program for those interested in learning about Amateur Radio and related technical and scientific topics. In better times, our regular meeting place is Micky's Roadside Café on Rt 4 in Enfield, NH, just past the town park and community church on the right. Plenty of free parking and a reasonably priced menu. The meeting room entrance is from the lower parking lot deck and is handicapped accessible.
Please Note: Meetings will be on Zoom for the foreseeable future (details via email.) Monthly meetings are open to anyone interested in Amateur Radio or related topics. Contact our president for a Zoom meeting invitation. Join the club's groups.io mailing list to stay connected while staying well!
Next meeting (on Zoom) November 13 - Program TBA
2021 Dues are due! Associate membership: $12, Voting membership $24.
If paying with Paypal, be sure to add a dollar to cover their processing fee.
Or, send a check to TSRC, c/o Dave Colter, POB 1109 New London, NH 03257-1109.
November 13 - Regular meeting (Zoom)

November 21 - New England Vintage Electronics Expo 8 AM - 1 PM Courtyard Marriott, Nashua
December 11 - Regular meeting (Zoom)
Dues: Voting members $24, Associate members $12. (If using PayPal, please add $1 to cover fees.) Associate membership is for those who won't be able to attend meetings regularly, so as not to affect our ability to get a quorum for voting. Send your check made out to TSRC to treasurer Dave Colter at PO Box 1109 New London, NH 03257 - OR, use the Donate button below to pay your dues.
Donations are also welcome and are fully tax deductible (consult a tax professional to see if this is right for you.) Small donations can be made via PayPal, but for larger donations we encourage you to send a check to avoid large transaction fees and preserve any IRS tax deduction.
TSRC serves the VT-NH Dartmouth-Sunapee/Upper Valley Region - come join us!
Radio Education & Public Service Communications
Since 1956
TSRC, Inc. is a 501(c)(3) non-profit education and public charity corporation
Donate or pay annual dues with PayPal. If paying dues, please add $1 to cover PayPal fees.
Please support New Hampshire Public Television to thank them for the many years of support they've provided TSRC with access to their Moose Mt. tower. www.nhptv.org

0

/